If bacon grew on trees, I would probably be a full-time vegetarian. I have simply never met a vegetable I didn't like. Correction: absolutely adore. While most kids went into meltdown over boiled-down brussels sprouts, I lapped them up ravenously. And this was long before chefs would serve them anointed in olive oil, gloriously charred and speckled with a pancetta confetti.
Whenever a menu lands on the table, I dive right into the appetizers and sides, often making a whole meal out of spinach artichoke dip, ricotta-stuffed squash blossoms, oven-roasted carrots, and the like. Ultimately, I am enamored with the inherent versatility of vegetables and the creativity they inspire. Consider how a simple spud is elevated to the fanciest and dreamiest-sounding dishes: potatoes Romanoff, Dauphinoise, Chantilly.
Yet for all my herbivorous obsessions, I do not understand the role of vegetables in dessert. Carrot cake, black bean brownie, pumpkin pie, and ube ice cream do not appeal to me. Half the time, I'm not sure whether I'm tasting any vegetables at all, leading me to wonder why they were ever invited to a meal's grand finale.
The other day, my aunt made me zucchini bread. While its chartreuse shade was certainly comely, I was confounded. All I could ascertain was a moist cake with undertones of cinnamon and the occasional spark of ginger. What happened to the zucchini? So, I consulted baking guru Rose Levy Beranbaum, author of cookbooks like The Cookie Bible and The Bread Bible.
"The thing is, zucchini really has no flavor," Beranbaum explained to me. "It's more of a textural and visual thing. There is a freshness to the zucchini, but it's the other things that give it flavor." Beranbaum then shared her own zucchini bread recipe from her upcoming reissue of The Cake Bible, which confirmed my suspicions. While zucchini receives main-title billing in zucchini bread, its role is supporting at best.
The inclusion of veggies in a dish's name but not its tasting profile is the complete antithesis of Asian desserts. "In Chinese cuisine, vegetables are often the star of the dish," says Zoey Xinyi Gong, whose The Five Elements Cookbook challenges convention while whetting appetites with desserty delicacies, such as purple rice-stuffed lotus root with brown sugar glaze and mint and mung bean sweet soup.
Rather than lurking, the vegetables hog the spotlight in Gong's recipes. Rooted in traditional Chinese medicine, the ingredients also come together not just for flavor but also function. "In China, summer camps would give students mint and mung bean sweet soup to cool them down and reduce fatigue," she explains. "Plus, it's refreshing."
Of course, many Western desserts similarly celebrate veggies. "Carrot definitely has a flavor," Beranbaum says, "and you don't need to add a lot to it, just cinnamon and sugar for a carrot cake. But there are a lot of things that if you close your eyes, you wouldn't know the difference."
Beranbaum's explanation got me thinking again about that all-too-famous autumnal meal-ender, pumpkin pie. Once a year, I get a slice, just hoping either my palate or mind would finally change. I am finally realizing that it's not the pumpkin I'm opposed to but the heady bouquet of spices that saturates and overwhelms the poor squash — cinnamon, ginger, nutmeg, allspice, black pepper, cloves.
What would pumpkin pie taste like without all those earthy seasonings? "Like a barnyard," Beranbaum quips. Turns out, she omitted them in the very first pumpkin pie she attempted and was forced to throw it out because it was just plain bad.
There's also the issue of perception and when dessert should be consumed. "In Chinese cuisine, we eat sweet and savory at the same time," Gong notes. "Desserts can come with the main course or at the beginning of the meal, which is why you see more vegetables too." Suddenly, Gong's adzuki bean and aged tangerine peel sweet soup with rice mochi sounds like an idea I can get behind if I treat it as an amuse-bouche.
The reality is I ought to get over my personal aversion — or I will just miss out. In the past month alone, I've turned my nose up at beetroot cookies and quinoa muffins. Meanwhile, the chaga carob smoothie at my local coffee atelier seems to taunt me each time I order my seemingly passé matcha. (It's not really a dessert, but I'm all for turmeric-laden golden lattes.)
Sweet-treat veggies are here to stay. The stalwarts are classics too difficult to avoid, while new trends will continually emerge to titillate taste buds. I'm not saying that I'll serve seaweed soufflé at my next dinner party, but if my aunt brings over zucchini bread again, I'm going to appreciate its moist texture, slather a slice with cream cheese frosting, and think of it as a delectable addition to my five-a-day.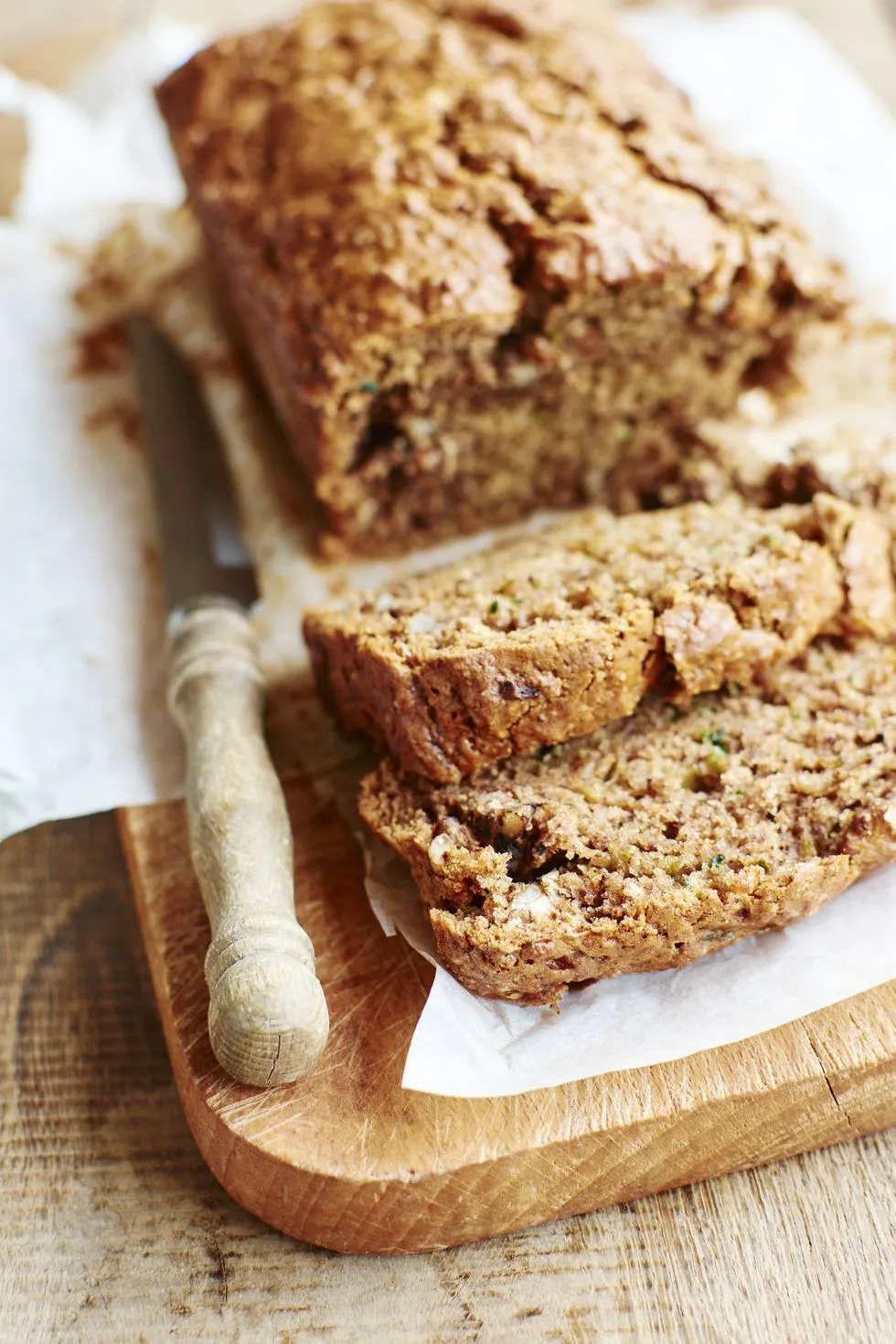 Zucchini Quick Bread
Featured in the updated edition of The Cake Bible, scheduled for release next year, Beranbaum's zucchini bread comes together quickly and is a perfect way to use up leftover zucchini. The vegetable primarily adds structure and moisture, while most of the flavor is derived from the walnuts, toasted golden and warm with spices.
Prep time: 25 minutes. Bake time: 55-65 minutes. Yield: 1 loaf.
Ingredients
¾ cup (75 grams) walnut halves
1½ cups (181 grams) bleached all-purpose flour
¾ teaspoon (3.4 grams) baking powder
¾ teaspoon (4.1 grams) baking soda
¼ teaspoon fine sea salt
1 teaspoon (2.5 grams) cinnamon
½ teaspoon ground ginger
¼ teaspoon ground clove
2 cups (227 grams) shredded, firmly packed green zucchini
2 large eggs (100 grams) or 3 large egg whites (90 grams)
¾ cup (163 grams) firmly packed light brown sugar, preferably muscovado
½ cup (108 grams) canola or safflower oil
1 teaspoon (5 grams) pure vanilla extract
Instructions
Preheat the oven for 20 minutes or longer before baking at 350˚ F. Set an oven rack in the lower third of the oven. Set the oven.
Spread the walnuts evenly on a baking sheet, and bake for about 5 minutes. Turn the walnuts onto a clean dish towel, and roll and rub them around to loosen the skins. Discard any loose skin, and cool completely. Chop medium fine.
In a medium bowl, whisk together the flour, baking powder, baking soda, salt, cinnamon, ginger, clove, and walnuts.
Shred the zucchini on the medium shredding holes of a food processor or grater (not the finest holes).
Into the bowl of a stand mixer, weigh or measure the eggs. Add the sugar, oil, and vanilla. Attach the flat beater, and beat on low speed for 3 minutes until well blended. Add the flour mixture, and beat on the lowest speed just until incorporated, about 20 seconds. Add the zucchini, and beat for another 12 seconds, just until incorporated. Scrape the batter into the prepared pan. The pan will be almost half full.
Bake for 55 to 65 minutes, or until dark brown and a wooden skewer inserted into the center comes out clean.
Let the bread cool in the pan for 10 minutes. Run a small spatula between the sides of the pan and the bread pressing firmly against the pan, and tilt the pan to slide out the bread onto the wire rack. Cool completely, top side up.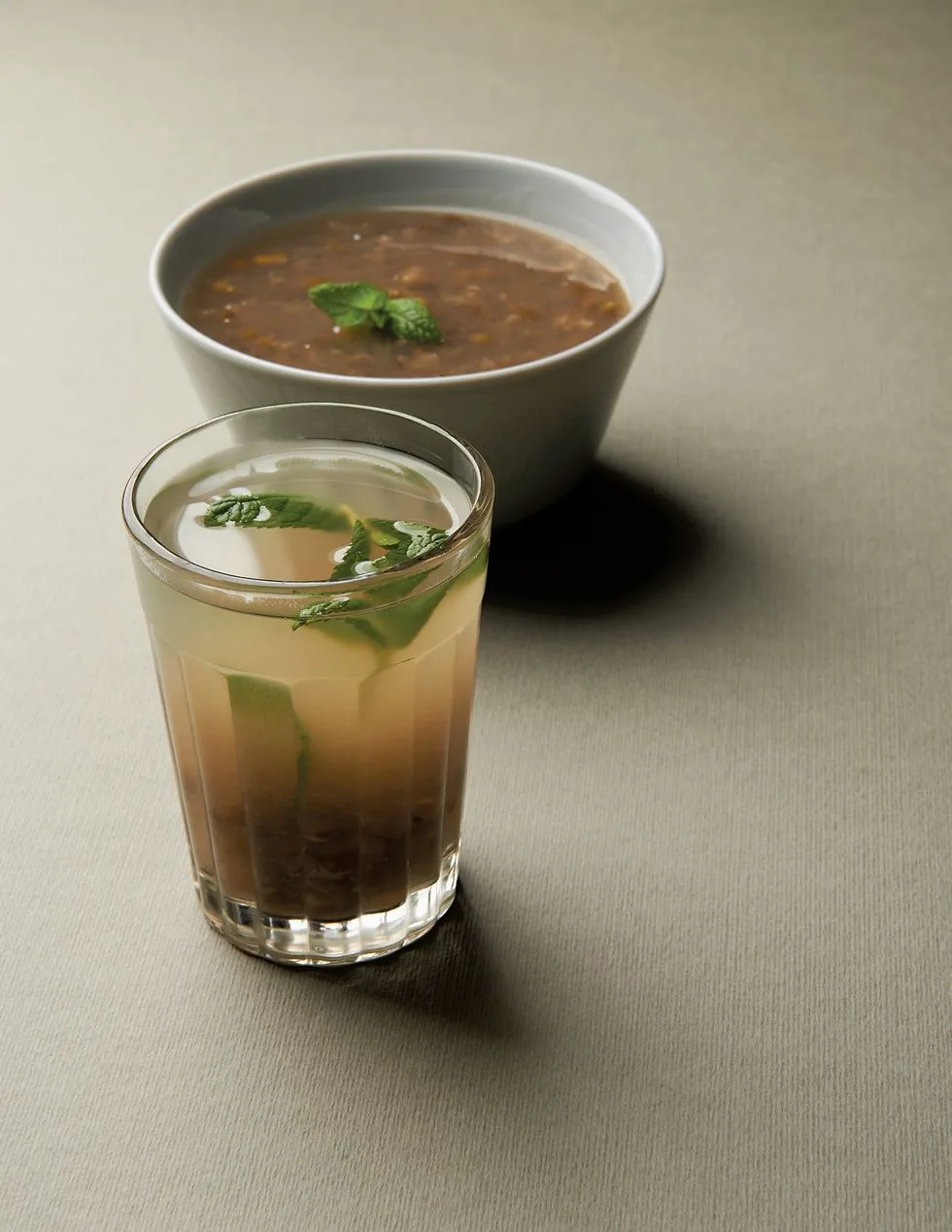 Mint and Mung Bean Sweet Soup
Each recipe in Zoey Xinyi Gong's The Five Elements Cookbook is based on medicinal food therapy, which uses diet as preventative medicine and delves into concepts such as environmental factors, energetics, seasonality, and meridians. Thus, this recipe of cooked mung beans laced with mint is said to cool the body and help with humid and warm seasonalities while being beneficial to the lungs, heart, and stomach.
Prep time: 12 hours. Cook time: 1 hour, 15 minutes. Yield: 4 servings.
Ingredients
½ cup (100 grams) mung beans
½ cup (35 grams) dried or fresh lily bulb
2 whole monk fruit or monk fruit extract, to taste
1 bunch (50 grams) fresh mint, both stamps and leaves, plus more for garnish
2 quarts water
Instructions
The night before serving this dish, rinse the mung beans, place them in a large bowl with enough water to cover them, and soak overnight.
The next day, drain the mung beans. In a large pot, combine the soaked mung beans, lily bulb, monk fruit (if using whole fruit), and water. Bring to a boil over high heat; reduce the heat to medium-low, and simmer, covered, for one hour until the mung beans are soft and mushy and the liquid turns opaque.
Add the mint and monk fruit extract (if using extract). Simmer for another 10 minutes. Taste and adjust the sweetness, adding more monk fruit if necessary.
Serve cold as a beverage or a soup and garnish with additional mint.