When Rose Levy Beranbaum published her seminal tome The Cake Bible in 1988, the internet was still in its nascent stage. It would be another year before America was Online. Fast forward to November 1998 when she released The Pie and Pastry Bible. Two months earlier, a search engine named Google had just launched.
Now on the 13th entry in her baking Bible series, the prolific pastry chef has fully embraced the digital realm. She actually penned her new book, The Cookie Bible, between making appearances on her TikTok and Instagram accounts, but don't expect step-by-step instructions for her utterly scrumptious banana custard cuddle cookies or golden butter financiers on the apps.
"TikTok is a platform for techniques, not for recipes," Beranbaum notes. "Some of the tips are quite good." Instead, Beranbaum offers small bites of wisdom online but saves her exhaustive recipes — totaling more than 150 — and how to craft them exclusively for her latest Bible.
Each page of The Cookie Bible drips with desire in the way dulce de leche oozes from an alfajor on a warm day. The book is a sugar-sprinkled sojourn across borders and cultures, ranging from palmiers, tuiles, and sablés from France to dattelkonfekt, drei augen, and pfeffernuss from Germany. Yes, there is even Beranbaum's take on the ever-popular macaron, the lighter-than-light treat that always intimidated the chef.
While no cookie featured in The Cookie Bible was created equal, Beranbaum does acknowledge she has a favorite. "The chocolate-studded truffle cookie," she says without skipping a beat, "where ganache is baked in, and turbinado sugar is used purposely because it does not dissolve completely so it gives you the crunch, and then the inside is creamy and stays that way for several days later."
Interestingly, that particular cookie was crafted by a chocolatier who based the recipe on a technique Beranbaum used in her chocolate lava cake. She shares the story in the book and gives full attribution to every inspiration. "I always like to give credit and explain how things evolved because I think it's so interesting," she says. "I see few people giving credit in books even to this day … or maybe editors edit them out."
It's for this very reason that Beranbaum wants to clear up a long-running misconception perpetuated on the internet. Google her name, and most references hail Beranbaum as the inventor of the reverse-creaming technique, a method of incorporating butter with flour before beating them together. "I didn't invent the technique," she reveals. "I invented it with butter because people said it couldn't be done with conventional wisdom." The industry had long employed this two-step method with shortening, but shortening is anathema to her. "I see no point in using shortening when it has no flavor."
There are other ingredients that Beranbaum freely eschews. The biggest transgressor is cloves, as they remind her of the clove oil her dentist mother would use as an anesthetic before the days of novocaine. Despite Beranbaum's personal disdain for the flavor, ground cloves show up in certain recipes, such as the peppery, nutty pfeffernuss and double ginger molasses cookies. "To me, there's no such thing as a bad ingredient," she says. "It's how you use it and how much you put in. Even cinnamon, which is so wonderful for cookies, can become bitter if there's too much."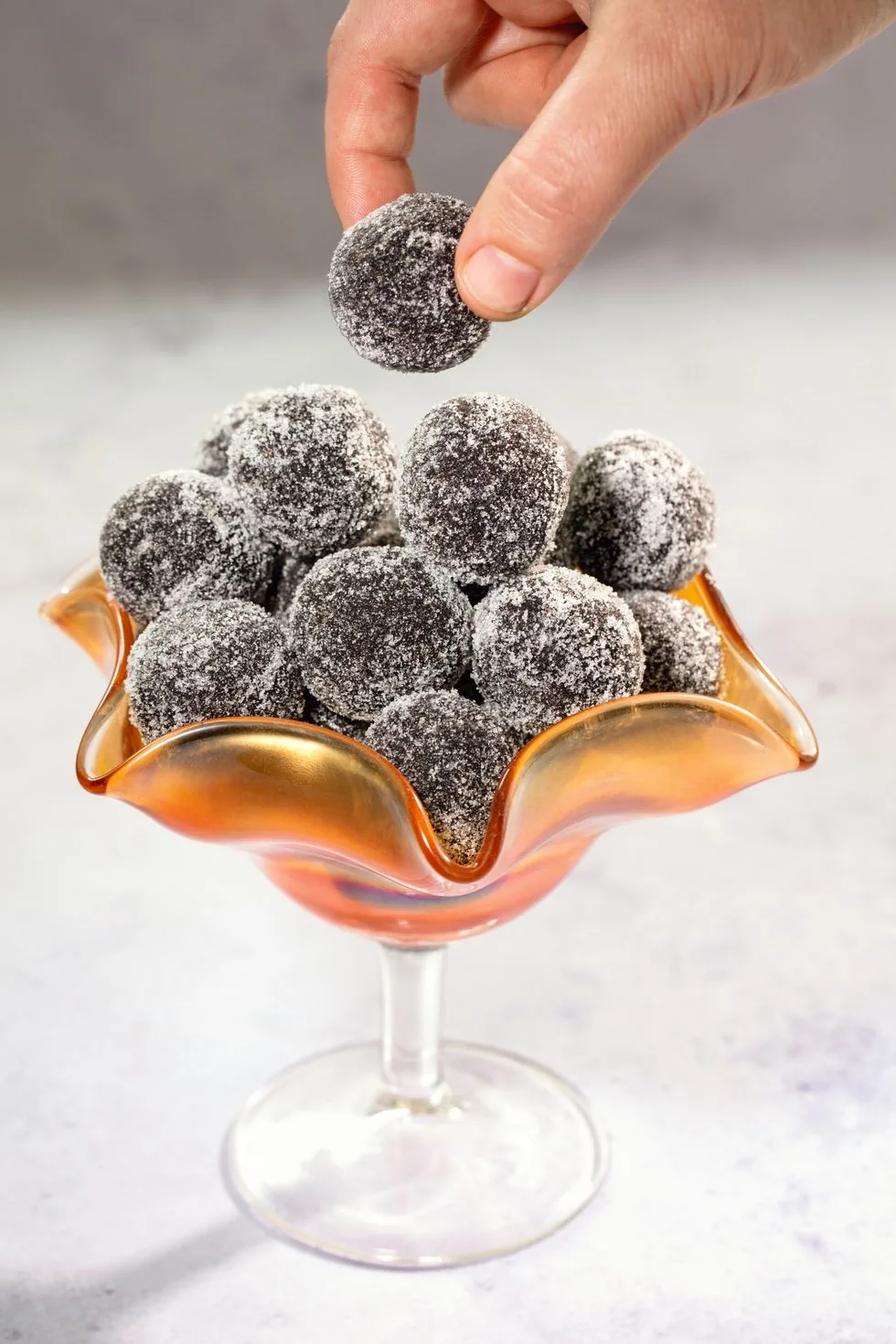 Avid cookbook readers may notice something different about The Cookie Bible. All the ingredients are listed first by weight — in metric, no less — followed by the measurement. Hence, Beranbaum's dreamy chocolate chip cookie, which adds golden syrup for a note of butterscotch, calls for "116 grams of flour, or 1⅓ cups, lightly spooned into the cup and leveled off." This is the result of Beranbaum's lifetime campaign to motivate bakers to use kitchen scales, a philosophy she calls "weigh to bake."
Beranbaum says, "People are so afraid of weighing. But I knew early on that weighing was key for predictability, precision, and ease. I even got rid of ounces in recipes because fluid ounces don't correlate with weight ounces."
Here are Beranbaum's other tricks to produce that perfect tray of home-baked cookies, whether comfortingly chewy or crispy and crumbly:
Skip expensive high-fat butter, which can result in better pastries but isn't necessary for cookies.
Use a food processor to make dough, as the sugar can be further refined to produce a smooth surface (and is perfect for decorating holiday cookies).
Place a plastic film over the dough when rolling it out so it doesn't stick to the pin and makes for a smooth surface in the dough.
Shape each cookie the same size. They'll cook evenly on the baking sheet.
Invest in an oven thermometer, as heat is critical to baking, and many ovens are not properly calibrated.
For Beranbaum, The Cookie Bible caps off three years of writing and making thousands of baked cookies, building on the success of her books on cake, pastry, pie, and bread. Why finally tackle cookies? "I'm known for cake, and baking bread connects you to the source of your sustenance," Beranbaum says. "But cookies? They're fun. Everybody loves them."