Kwame Onwuachi's career is the stuff of legends. After a stint at the illustrious Per Se in New York before hurtling into TV stardom on Top Chef, he opened not one but two restaurants — all before the age of 30.
Onwuachi, who was crowned the Rising Star Chef of the Year by the James Beard Foundation in 2019, essentially grew up in the public eye, which created unrelenting pressure as he pursued his passion. "It was tougher when I was younger," he tells Shondaland, "but I also think that it pushes me to a certain level when I am scrutinized. It's fuel for me. You can use that stuff as motivation."
Now, he's charted his extraordinary journey in My America: Recipes From a Young Black Chef. The cookbook distills Onwuachi's early life in a way that challenges stereotypical ideas of what it is to be a New Yorker. Forget the boiled hot dogs and greasy kebabs of midtown cart fame. Instead, Onwuachi exalts the cornucopia of his Bronx neighborhood with recipes for callaloo — both Jamaican and Trinidadian styles — to accompany pollo guisado. The latter is naturally characterized by sofrito, which is elemental to Puerto Rican and Dominican cooking.
If the book, which is set for release May 17, contained just cooking directions, it would already earn a spot on the kitchen counter of avid cooks. But the accompanying anecdotes with each recipe are what shines as Onwuachi charts the journeys of different diasporas in his blood and community.
Onwuachi recently spoke with Shondaland about how it felt to relive his past when creating recipes for My America, why it's important to stock your pantry, and what career he's embarking on next. (Spoiler: It doesn't involve food.)
GERALD TAN: You start off the book by writing, "Show me an America made of apple pie and hot dogs, baseball and Chevrolet, and I won't recognize it." What was the ethos behind My America?
KWAME ONWUACHI: Everybody has their version of America whether you're an immigrant, you're from here, or raised here. This is my version and what I knew of American food or comfort food growing up. It was my journey, but it was also the people who came before me. Giving a voice to the inaudible was really important for me in this book. I wanted to share that with everybody — not just recipes alone but also anecdotes and stories that really tell how these dishes came to be and why they're important.
View this post on Instagram
GT: Your mother is a professional chef herself. What's the most important lesson you've learned from her that you carry to this day in the kitchen?
KO: Season my food well. She made all her spice blends from scratch. Growing up, we weren't allowed to eat any processed food. It directly correlated to my professional life, so I can care about every aspect of a dish. You'll see that in the book, which starts out with a pantry.
Before we even get to cooking, you've got to stock up the pantry with certain things to make these dishes easier to prepare. House spice is one of my favorites. It's a blend that goes on everything, as does green seasoning, a Trinidadian marinade for meats and vegetables.
GT: When are you most inspired to create dishes?
KO: Sometimes they're super well thought out, and sometimes they're a fluke. It all depends, but I do think that if a dish tells a story, it has a soul. You're actually cooking to share a piece of nostalgia and a memory. I think that's when the most beautiful food comes about.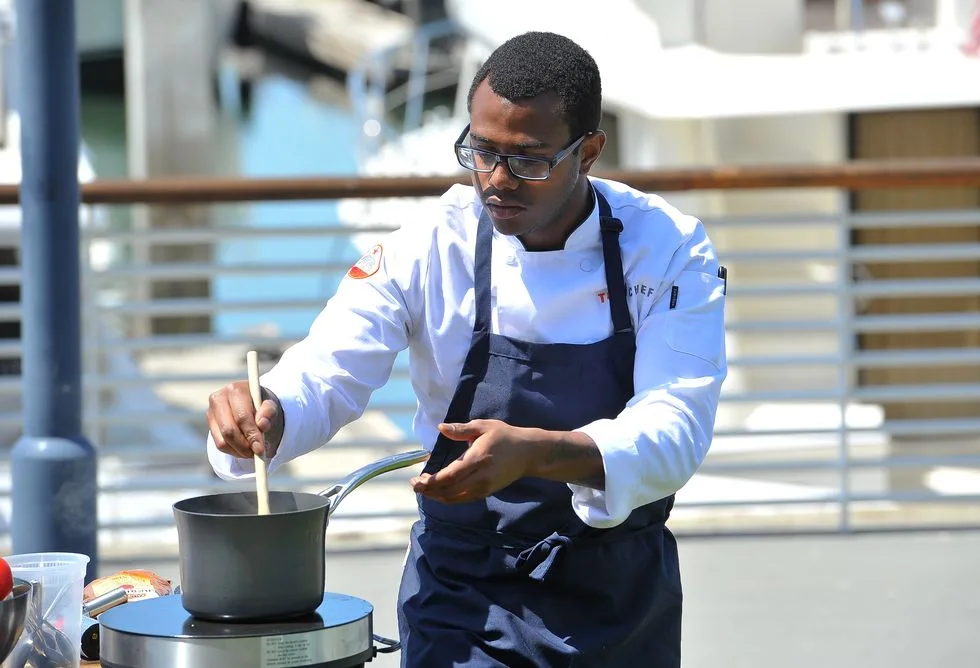 GT: You've now cooked everywhere from the White House to the James Beard House. Are you daunted by any of these challenges?
KO: No, no. Life is so beautiful, and all these are beautiful opportunities that I don't take for granted. I'm just so excited to be a part of these things, and I don't think I would add anything onto my plate that I can't handle.
GT: Does the fame make its way onto the plate?
KO: It's all attention at the end of the day. People are looking at you for certain reasons, so you can either buckle down and prove them wrong or succumb to the pressure.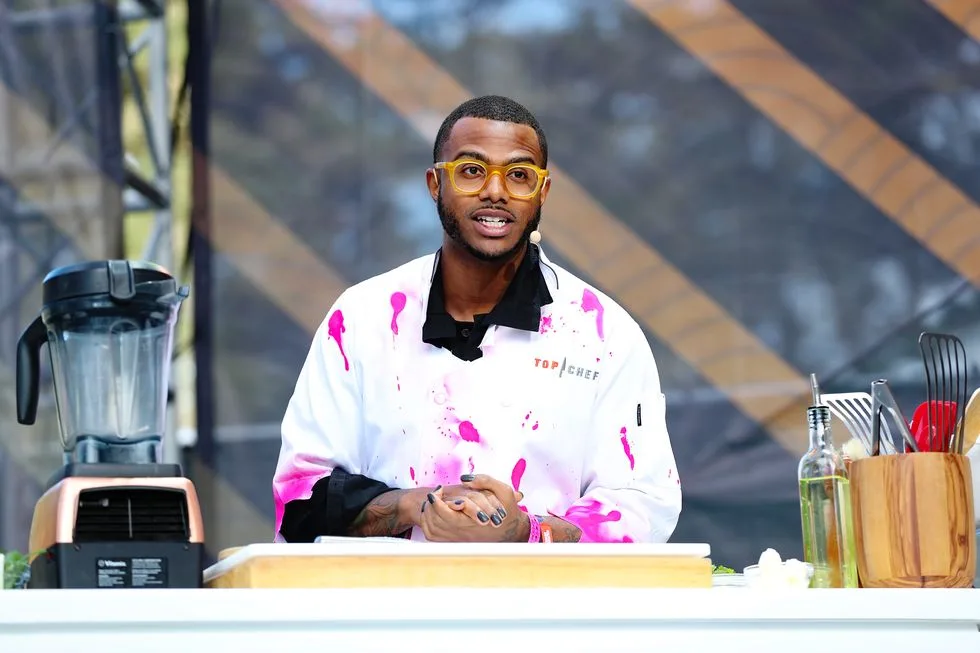 GT: Set the scene for your dream dinner party. Where would you have it, whom would you invite, and what would you serve?
KO: If I had a dream dinner party, it would be me, Barack Obama, LeBron James, Oprah, LaKeith Stanfield, Donald Glover, Dave Chappelle, Lauryn Hill. And we would probably have a crawfish and crab boil at my house — something we would eat with our hands. That way, everyone is on an even playing field. Everyone can just let their hair down.
GT: Tell me about your personal style. You have a signature look — black painted nails — and your own line of nail polish too. How did that come about?
KO: I was wearing it on TV, and Orly reached out, and they just wanted to have a conversation. The nail-polish line was born from that. I wanted to express myself in a different way, and painting my nails is one of them. Self-expression with fashion is so important. It's like food: We have to do it every day, so might as well do it in our own vein.
GT: Looking at the arc of your career, you seem to be ticking off a checklist of goals. With your first cookbook under your belt, what's the next big thing we can expect from Chef Kwame?
KO: I'd love to open more restaurants. I just started acting, so landing more roles and expressing myself that way. I wrapped my first movie recently. It's called Sugar, and it's going to be on Amazon.
GT: Do you play a chef?
KO: No! Everybody asks that. I'm actually my own character. You'll have to stay tuned to get more details. I'm actually acting. I'm not playing myself.